Landstar Orientation Centers
Landstar helps its new truck drivers with a 2-day training orientation and operational support!

Rockford, IL
Hamilton, ON
Reno, NV
Lewistown, PA
Indianapolis, IN
Covington, GA
Jacksonville, FL
Madisonville, KY
Dallas, TX
Landstar Contractors' Advantage Purchasing Program (LCAPP) -
Save on New and Used Equipment and Maintenance!
Our goal is to help you cut costs and improve profitability for your business! LCAPP offers one of the largest voluntary cooperative purchasing programs of its kind in the trucking industry. Currently Landstar contractors are receiving discounts and rebates on: fuel, tires, new & used trucks and trailers, extended warranties, communications, accessories, parts and service . . . And much more! LCAPP frequently adds new products and services to help our owner operators lower their operating costs.

Finding freight has never been easier or faster!
Owner Operators and Landstar drivers have access to Landstar freight 24/7 with the "Available Load Board".
See how our freight board works!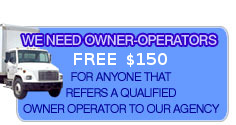 If you're sick and tired of outside companies running your business, then maybe its time to make the switch to Landstar! Become a Landstar Owner-Operator!

We welcome company drivers, owner-operators and small fleet owners! Landstar offers over-the-road transportation services including van, flatbed, temperature controlled, over dimensional and heavy haul, expedite and logistic services.



Landstar is a nationwide, NON-Forced Dispatch Trucking Company. We have 100% owner-operators NO Landstar company drivers. Landstar is the 3rd largest trucking company in the USA serving all of the United States including Canada and Mexico. Our Annual Revenue keeps growing. We have more freight than trucks . . . good paying freight! With Landstar you plck the loads!



Getting Started at Landstar

As a Landstar Business Owner-Operator, you'll enjoy many benefits to help you get started and to continue your success with Landstar. Landstar BCO Services and a 2-day orientation will provide you with information and tools for the "NON-Forced Dispatch" System.

How YOU benefit from Landstar

- Independence. You own and control your own business. As your Landstar Recruiter, we will help you learn the "NON-Forced Dispatch System".

Check out our recruiting page, "RKY/DUV Agency" and learn why we are one of the best and most "driver-friendly" recruiting agents in Landstar!

- 100% Owner-Operators - NO company equipment competition. This means more good paying freight for you!

- 100% Committment to Your Success. We offer 2-day orientation, extensive safety programs and a large operational support staff.

- Large Agent Freight Base. The Landstar group has over 1,000 Agents in the U.S. and Canada. Our Landstar Agency alone has plenty of year-around freight for owner-operators.

We'll show you how to turn your cell phone into a "money making" tool. Search for freight on the Landstar Load Board 24/7. Then, give us a call and book your loads. It's that simple!




- Internet Freight System. You will have access to available Landstar freight 24/7! Plan your trips ahead and pre-plan your routes. Great tool for owner-operators and small fleet owners!

- 100% NON-Forced Dispatch. You pick and choose your own loads.Go home when you want!

- Weekly Settlement. No initial hold back of your settlements.

- Manage your money with a Landstar "Comdata Card". Pre-trip settlements, ATM cash advances, fuel, truckstops, check your account balance by phone, pay bills over the road, track expenses, and make long distance phone calls for less than other cards.

- We offer a "BCO Advisor Program" for all new owner-owner operators or drivers who are unfamiliar with the NON-Forced Dispatch System. (BCO - Business Capacity Owner)

As your Landstar Recruiting Agent, we will help you network with other agents, pick freight, pre-plan routes or whatever you need in order for you to succeed!

- 24/7 operational help.

- LCAPP, Landstar Contractor Advantage Purchase Program. Save money on fuel, tires, parts, equipment purchases, financing, communications and more!

- (4) annual Landstar Owner-Operator "Appreciation Events". These include the Brickyard 400 and the Las Vegas NASCAR races.