Landstar Orientation Centers
We offer 2-day training orientation and operational support staff to help new owner-operators and truck drivers.
Landstar Orientation Centers

Landstar Safety / Fun Events!
We offer extensive and safety programs to assure your success and to help keep you safe. Every year, Landstar thanks its owner- operators and drivers by holding 4 exciting events including golf outings, the Brickyard 400 or the Las Vegas 400 NASCAR races!

More Landstar Benefits!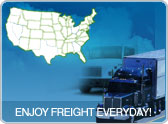 Are you a truck driver or owner operator thinking about making a change to another trucking company? Landstar Trucking is a financially solid company looking for owner operators. We have tons of great freight and plenty of trucking driving jobs for both long or short haul. Click here to find out more about Landstar services and trucking benefits.

Landstar is a 100% NON-Forced Dispatch trucking company. We hire 100% owner-operators. There are no company Landstar drivers. We are also the 3rd largest trucking company in the USA serving all the United States including Canada and Mexico. With over 1000 Landstar Agents, we have plenty of good paying freight all across North America! With Landstar, you pick & choose your loads. Go home went you want... Run the routes you want....


Not familiar with the NON-Forced Dispatch System? No problem! We understand what it takes to become profitable as a Landstar driver. See why we were chosen "Best Overall Landstar Agent" for both 2002 & 2003!



DUV / RKY Landstar Recruiting Agency! We are an Independent Landstar Recruiting Agent aggressively seeking to grow our truck count. In 2002 & 2003, we received "Quality Agent of the Year"!

Our Agency offers tons of great freight: One pick, one drop, light, no touch, snatch-n-go kinda loads.... We have

good paying

and

year around

freight out of California, Nevada, Washington, Texas, Ohio, Kentucky, Georgia and more! Landstar is a true NON-Forced Dispatch System. With our Landstar Load Board you pick and choose your loads 24/7!